Commentary by Fr. Stamatis on the image of St. Maximus, which he painted in Pozarevats on Monday 09/10/18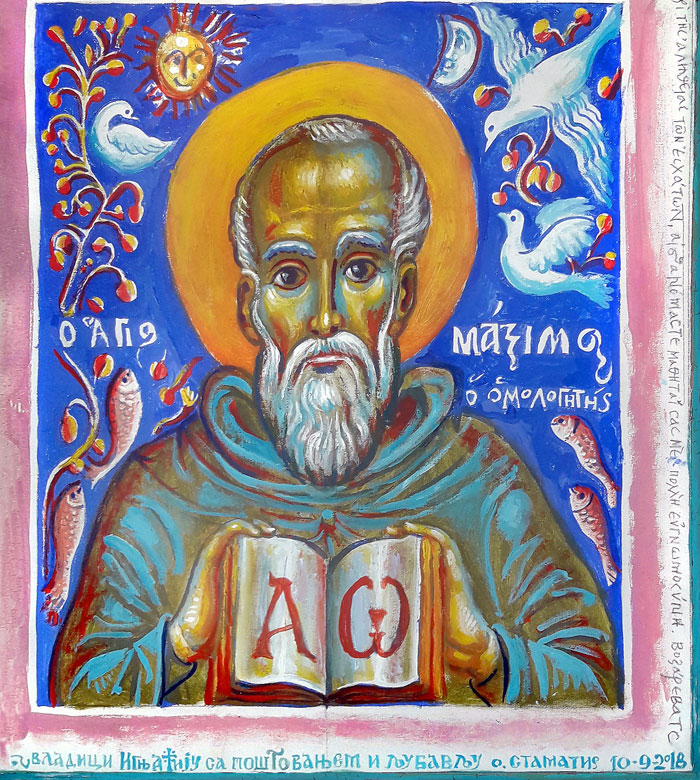 In the icon we see birds, fish, and plants moving around the Saint with energy, mobility, and the desire for existence, and painted in shining colors. In contrast to these impersonal beings, the Saint shows himself elated by the immeasurable and constant movement of the person who seeks complete and eternal love beyond natural existence, and the delicate natural ties for which one wages an endless struggle to attain a personal loving relationship that culminates only in Christ; this is why one uses the icon to express unceasing agitation and emotion: through his actions he suffers with other persons until he attains the measure of the age of Jesus Christ. This gives rise to all the asymmetric symmetries of Orthodox iconography: the carelessness of the microcosm of nature is rendered in a different way than that of the responsibility of the person. The portrait of St. Maximus supersedes the symmetries of natural laws, and presents bigger and asymmetric eyes, as well as eyebrows, whiskers, cheeks, hair, etc. in a painting that is in danger of being characterized as naive, but that is a scholarly painted expression of theological singularness.
The person's expression also includes psychological asymmetries, questions, concerns, internal completeness (which is revealed through the illumination of the face), but also an internal sorrow and a sense of absence and non-completeness (as revealed through the person's expression). This element of questioning and of searching might place St. Maximus among the few philosophically inclined Byzantine writers.
Father Stamatis