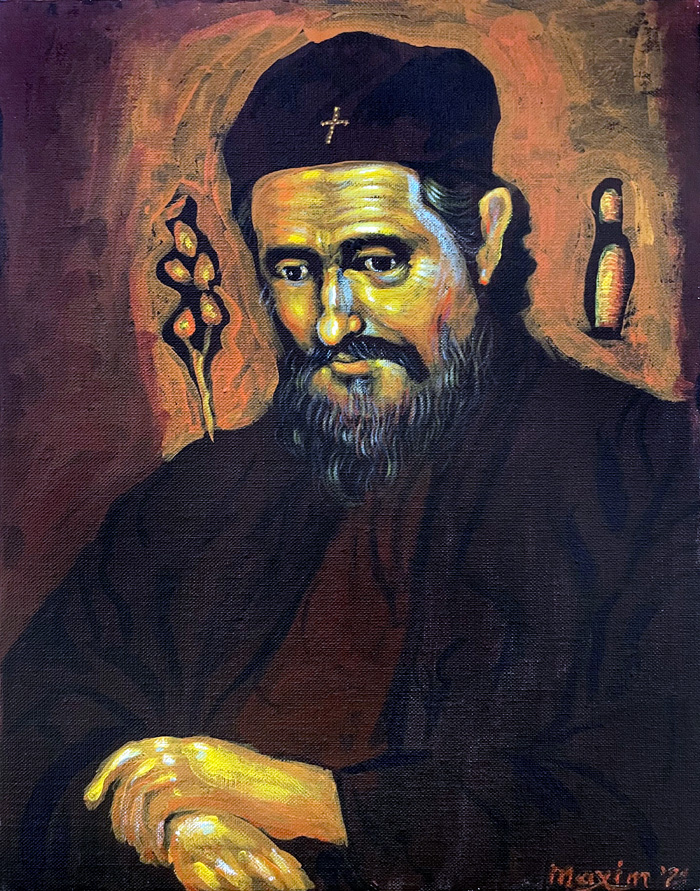 Divinity emanating through his expression, the broad shoulders and the blessed peace of mind of the Elder Atanasije describe the balance between physical and spiritual strength.
His shining figure emerges from a dark background that symbolizes the existential night and void. The gray-blue light balances the warm and the cold.
The Elder's robe is rendered in a tactile manner, the plain weave invoking the simplicity of his monastic life while also putting one in mind of the natural and comforting facets of his character. The index finger of his left hand rests easily, yet mindfully, on his forearm.
The painting is an attempt to apply the technique of forming the subject through the application of several layered chromatic sequences.  From relatively dark layers to successively lighter ones.  It could be described as overpainting rather than the more traditional approach of defining the composition with underpainting.  By painting the light rather than the shadow, the lines of the subject become visible from within; the warm and dark outline of the figure remains equal to the background.  All this leads to the application of the final bright accents.
The chromatic advancement from dark to light counters the movement of the depicted objects. Here they serve as abstract symbols, a tree as nature and an empty grave as the core Christian message.  In this way, the portrait of the Elder opens up and moves toward the space of the viewer.
Bishop Maxim (Vasiljevic)
[Vasiljević, Maxim.
The Elder Atanasije Breaks Through The Darkness Of Night With Prayer
. 2021, Alhambra, California, USA.]